This recipe is also available in:

Español (Spanish)
There are times when we want to lose weight, seeing each other physically better, and start some home diet to achieve the goal, within the list of recipes of any diet plan for weight loss we will always see the Salmon and is that the salmon is a sustainable food in any diet.
On this occasion and with the help of our Chef Yadirha Durán we will be making a rich Salmon in the pan with spinach salad, tomatoes and avocado, recipe that is very easy to make and above all fast, we will use ingredients that are very safe to have in your kitchen, so perhaps the most difficult thing here, is the Salmon.
Before starting with the steps to follow we will abound a little about salmon since there are many facts and benefits that we must know when adding this fish to our kitchen.
¿What is Salmon?
Salmon is an oily and freshwater or salty fish that is also known as Reo, Atlantic Salmon or European Salmon, belongs to the family of Salmonidae, this is a spice that passes from cold seas to rivers, it has become a staple food in northeastern Europe for centuries.
Salmon in a Diet Feeding Plan
This is one of the most beneficial foods we can include in a diet and it is also one of the most sustainable according to a recent study. Salmon as food offers a lot of nutrients highly beneficial for our health, and this, if we talk about Norwegian salmon, this species has just been considered the most sustainable food among protein producers in the world.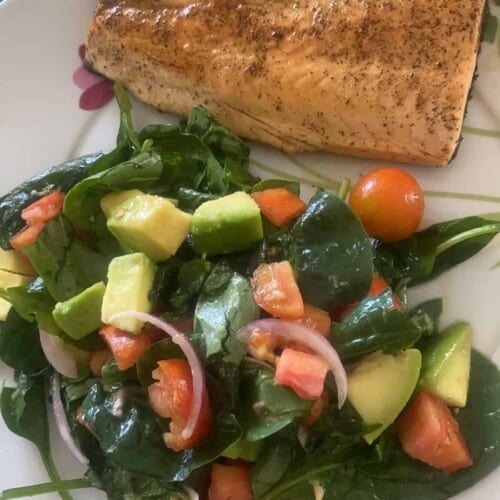 Salmon Recipe with Spinach, Tomatoes and Avocado Salad
Our Chef Yadirha Durán will prepare a rich Salmon in the pan with spinach, tomato, and avocado salad, a rich recipe for cooking.
INGREDIENTS
1

Salmon.

7

cherry tomatoes

100

gm

of spin.

2

slices

avocado,

chopped into squares.

1/2

onion,

Minced.

1

lemon.

salt to taste.

Green oil to taste.

Truffle oil.

Oregano to taste.

Pepper to taste.
INSTRUCTIONS
How to prepare Salmon in the Pan
Preheat the pan over medium heat.

Season the salmon first on one side, add salt, oregano, green oil, truffle oil (optional), and pepper to taste and take to the pan, then repeat this operation on the missing side and let cook, for about 5 minutes on the side where the skin is not and 7 to 8 minutes on the side where it is.

5 minutes before being fully cooked, add the lemon liquid side by side while we continue cooking.
Prepare the Spinach, Tomato, Onion and Avocado Salad
While cooking our salmon we wash all the vegetables very well and let them drain.

After this, prepare the salad, chop in squares the avocado, chopped the onion in juliana and add along with the spinach and cherry tomatoes.

Prepare the vinaigrette in a container mix a little green oil, balsamic vinegar, oregano, salt and pepper to taste.

And ready, we can serve and enjoy our dish.
In conclusion, we hope you can make this easy recipe that will be something different in your kitchen, we look forward to your comments and photographs of the result.